News
Possible mail order delays
Please note that currently there may be a delay in posting orders due to the extreme weather conditions: our local Post Office is inaccessible due to flooding. Any outstanding orders will be dispatched as soon as possible.
* * * * *
British Sewing awards 2018
We are delighted to have been nominated for the 2018 British Sewing Awards, in two categories:
Best Independent Retailer, Wales

Most outstanding Sew Saturday event 2017
(You can read all about our Sew Saturday 2017 project lower on this page)
We would love you to vote for us in either category (or both!).
To do so, please click on the logo below;
voting is open until 15 November, so don't delay, vote today!
* * * * *
Recently arrived:
'Country Road Flannels', by Moda
'Kimono' (2018), by Makower
'Gradients', by Moda
'Carnival Batiks', by Moda
'Tonga Color Wheel Batiks' and 'Tonga Treats' (precuts), from Timeless Treasures
'Stonehenge Kids Prehistoric' (dinosaurs!) and 'Stonehenge Gradations', by Northcott Studios
'The Water Meadow', by Lewis and Irene
'Winter Tails', by Michael Miller
'Fairy Whispers' added to Michael Miller Flower Fairies page
Follow the links on the Fabric pages!
* * * * *
Local exhibitions
We have just added a page with information about various local craft-related exhibitions.
* * * * *
Quilts at Cae Hir 2018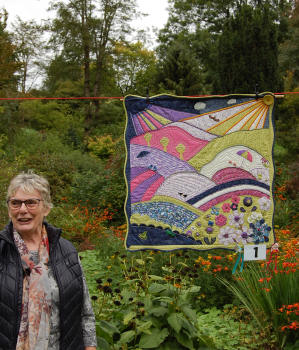 Barbara Atkinson with 'Summer Days'
Held over the Bank Holiday weekend, after a long hot summer, the weather predictably turned cooler and showery! Nevertheless, there was a record number of visitors. There were 44 quilt entries, more than ever, with 15 addressing the theme of 'The Sea' (restricted to 2ft square) and 29 quilts in the Open category.
Judging was by visitors each day, with votes for each entry added up on the last day to give the overall winners, who were:
'The Sea' category:
1st No. 14 'Rockpool', by Barbara Smith and Julia Cuttle
2nd No. 6 'Sashiko Koi Carp', by Sue Garstang
3rd No. 9 'Seaside Landscape', by Sheila Philips
Open category:
1st No. 26 'Over the Rainbow', Rose Thorn
2nd No. 1 'Summer Days', by Barbara Atkinson (above)
3rd No. 29 'Welcome Home', by Lorraine Baldwin
Prizes were donated by Mez Crafts, Calico Kate, British Patchwork and Quilting, Justhands-on.tv, Cae Hir Gardens and Karen's Quilts.
For Quilts at Cae Hir in 2019, there will again be a theme, 'Celebration', for quilts up to 2ft square, as well as an unrestricted open section.
* * * * *
Sewing as Therapy
Click here to read a personal experience.
* * * * *
Foundation by the Yard
Follow the link from fabric to Benartex to see the collection
* * * * *
<>
Welsh Quilt Centre workshops
There are still some places available on this year's workshops at the Welsh Quilt Centre:
Glorious Welsh Quilts, with Sandie Lush, on Friday 26th and Saturday 27th October
Visit the Welsh Quilt Centre website for more information.
<>
Article about Calico Kate
We were thrilled to be the "featured shop" in the Moda blog recently. Read the full post here!
* * * * *
Sew Saturday 2017
Calico Kate's Sew Saturday project, to encourage customers to make jumpers and mini-quilts for seventy teddy bears to send to children in Romania, was a success beyond all expectations! Read more about the project at the links below:
* * * * *