Welcome to Calico Kate!

<>
British Sewing Awards 2019
Thank you for nominating us.
Now is your chance to vote! Closing date is 13th November 2019.
Vote here: Sew Magazine Awards page
or click on the logo below: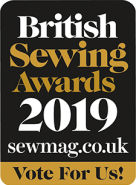 <>
About Calico Kate
Established in 2002, Calico Kate has gained a reputation as an 'Aladdin's Cave' for patchworkers, dressmakers, knitters and embroiderers.
In a building full of charm and character, you can now wander through twelve rooms of fabric, haberdashery and yarn, in a relaxed
and homely atmosphere.
Calico Kate is in Lampeter's High Street, next to the handsome Town Hall.
<>
<>

WINNER
Best Independent Retailer
Wales

HIGHLY COMMENDED
Most outstanding
Sew Saturday event 2017

Best Independent
Haberdashery Shop
Wales

Best Independent
Haberdashery Shop
Wales

Best for
Customer
Service