Craft-related links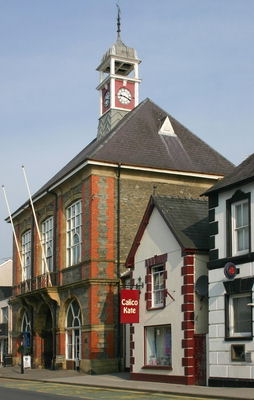 Quilting
Jen Jones, Antique Welsh quilts and blankets
Pontbrendu, Llanybydder SA40 9UJ.
Open Monday to Saturday 10am to 6pm,
Sundays and other times by arrangement.
If you are travelling any distance it is advisable to phone first.
Tel. 01570 480610; Email Jen Jones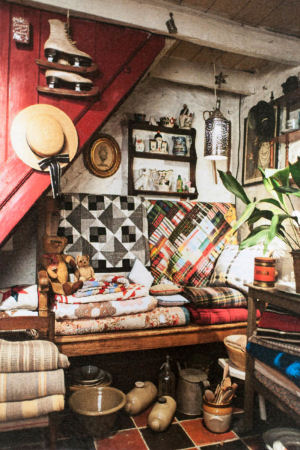 Jen Jones Antique Welsh Quilts
The Welsh Quilt Museum Shop and Gallery 3, next to Calico Kate in Lampeter, will remain open until Christmas:
Tuesday to Saturday, 11.00am to 4.00pm.
Karen's Quilts: 01974 272026. No time to finish your quilt? Contact Karen and she will quilt it for you on her Gammill Long Arm quilting machine. She lives locally, in Llanrhystud. An example of her work can be seen at Calico Kate.
Cwilt Ceredigion - Lorraine Langford: Free Motion Quilting tuition, 2 hour sessions, near Llanrhystud
Further details on website, email Lorraine or tel. 07817 794121
Museum
National Wool Museum: The National Wool Museum is part of Amgueddfa Cymru - National Museum Wales.
Dre-Fach Felindre, Felindre, Llandysul SA44 5UP
Further details here: National Wool Museum
Sewing Classes
Harriett Chapman Designs: "Sewing classes on Thursday mornings from 10.00 to 12.00. Suitable for all abilities, using appliqué, free hand embroidery and hand stitch to build up images. Later, we will make items such as bags for life, but it is definitely not a garment construction class, more about the decoration. I am also gathering numbers to start a Thursday evening class, it will start at 7.00 until 9.00 and the same price." Venue Unit 13, Pencarreg, Aberaeron Craft Centre
Further information: tel. 07732 320717; email Harriett; facebook: harriettchapmandesigns.
Karen's Quilts: "Come and be part of a friendly group who enjoy sewing. Bring your own project to work on, or join the patchwork class."
Last Friday of the month, 10.30am to 4.00pm. £5.00 for drop in, or £10.00 for patchwork class.
Venue: Karen's Quilts, Pwll y Berlan, Llanrhystud, Ceredigion SY23 5ED tel. 01974 272026
Dressmaking Courses
Email Camille
07799 256250
Gain the necessary skills to start sewing your own own clothes – beginners and experienced sewers are welcome.
Jewellery Making Workshops
Rose Wood Jewellery: Further details here: Rose Wood Jewellery
01559 370676
Mixed crafts
Waunifor Centre: Waunifor offers a wide range of talks and workshops in pottery, art and crafts, together with self-catering accommodation, near Llandysul in mid-Wales.
Full details at Waunifor Centre or Waunifor what's on; email
phone 01559 395437.
Willow sculpture, basketmaking, felt artist
Cassandra Lishman: Further details here: Cassandra Lishman
01994 419061
Rag rugs
Rag Art Studios: Rag Rug Making, tools and materials, workshops. Further details here: Ragart Studios Sue 01974 298100
Curtains
Everything Changes (Suzie Smith, 07721 520498)
Email: Everything Changes
Suzie Smith, local to Calico Kate, makes curtains, soft furnishings, and will upholster or re-cover small items. She also offers a home measurement service. A sample of Suzie's immaculate work can be seen at Calico Kate.
Knit and Natter Groups
Cwmifor Crafters: Meet Thursday afternoons in Manordeilo Reading Room, Cwmifor, (off A40, near Llandeilo) 2-4pm. We do all things needle-related! Come to learn, chat or give advice. All welcome
Just turn up, or ring 01558 824250 or 01558 824075
Knit, Make, Sew: Meet every Tuesday at Llandovery YMCA 1-3.30pm. We have knitters, stitchers, quilters... If you're a beginner we're here to help, if you're an expert we'd love to learn!
Contact Kate 07905 699041 or YMCA 01550 721499
Patchwork and Quilting Groups
Quilters' Guild of Great Britain
Further details here: Quilters Guild
See Dragon's Yarn about local groups
Other Patchwork Groups (some affiliated to the Guild)
Happy Quilters: Meet in The Carmarthen Learners Centre every other Thursday Contact number for further information 01267 235413
Llandeilo P & Qs: Meet every Tuesday evening from 7pm - 9pm in Llandybie Memorial Hall (small hall at back of building)
Chairperson Gillian Lougher 01550 777523.
Secretary Debra Lucas 01269 594293
General information:
Grapevine – free Lampeter broadsheet, a good source of information for local groups